Infographic: 10 Mobile Landing Page Best Practices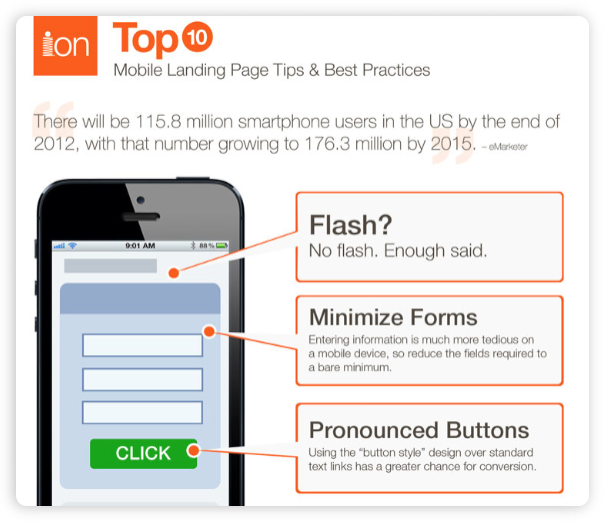 According to eMarketer, there are now more than 115 million smartphone users in the United States alone. That includes tens of millions of businesspeople who research their B2B buying decisions using phones, tablets and other mobile devices.
This week's infographic, provided courtesy of ION Interactive, offers 10 best practices for crafting practical and effective mobile landing pages. Learn what it takes to build a mobile B2B presence that engages and converts your prospects.
Infographic: For Email Marketing, Timing Is The Key To Success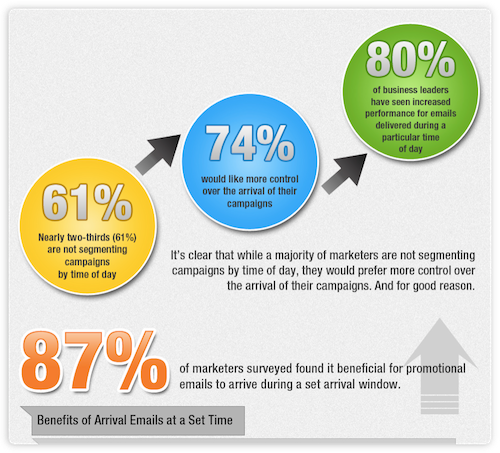 This week's infographic, provided courtesy of StrongMail, features the results of a survey of more than 700 marketing professionals. It offers some interesting insights into timing a company's email marketing campaigns, and the impact that proper timing can have on response rates – an issue with implications for both B2B and B2C marketers.
Infographic: B2B Marketing, Olympic Style
Sooner or later, it just had to happen: an Olympics-themed B2B marketing infographic.
Fortunately, it's a pretty good one, provided courtesy of the folks at LeadFormix. They've assembled a nice roundup of key B2B marketing tactics, key challenges, what the future holds for the discipline, and more.
Infographic: The Content Delivery Funnel
Here at DGR we see a lot of infographics. Some are good, some are…less so.
And sometimes we see an infographic that we wish WE had thought of first. This is one of those times.
The following infographic comes courtesy of the Content Marketing Institute (CMI) and Demandbase. It's a perfect introduction to content marketing for companies that are just coming to grips with the concept. There are so many content options available to marketers today, and it's often difficult to visualize the ideal role each content type plays in the typical sales/marketing funnel.
The Relationship Between Revenue & Marketing Metrics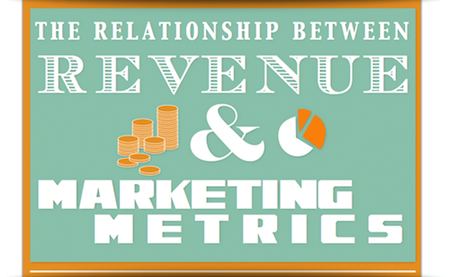 As marketers cultivate an increasingly critical role in the revenue discussion, this Eloqua infographic highlights the business drivers behind a greater effort to measure marketing initiatives. A whopping 89% of marketers said they've increased their emphasis on marketing measurement in the last 12-24 months.
Infographic: Understanding Marketing Automation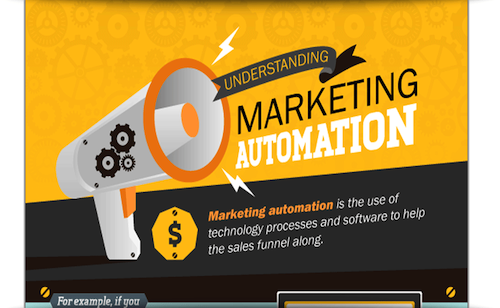 While the marketing automation industry has seen rapid, steady adoption over the last two years, industry experts point to a lack of process-based insight as a reason why marketers are not realizing the full value of their investments. This infographic highlights the evolution of marketing automation, as well as some of the key challenges and barriers to success. Additionally, the content explores the best ways to utilize automation to maximize efficiency and enhance prospect and customer communications.
Infographic: How Are B2B Marketers Optimizing Their Funnel?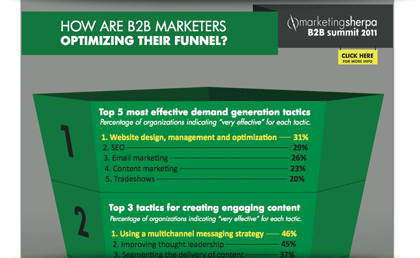 At MarketingSherpa's B2B Summit in July 2011, MECLABS released results from its 2012 B2B Marketing Benchmark Study. This infographic highlights how B2B marketers are optimizing their demand generation efforts. According to the survey, 31% of respondents cite web site design, management and optimization "very effective" for demand gen, while 46% primarily use a multichannel messaging strategy to create engaging content. See our "What's Working in Demand Generation" feature this week to hear directly from vendors how they are fueling their demand gen efforts.