Email And Mobile: The Glass Is Still Half Empty
More than 50% of email marketers now optimize or plan to optimize their email offers for mobile viewers. That's a key result from a recent Experian Marketing Services study, and it raises one big question: Is that number encouraging or exasperating?
I think it's more the latter. Maybe I'm a pessimist, but this is a case where the glass is half empty rather than half full. There's no excuse at this point for treating mobile platforms as a secondary concern.
Consider another data point: A June, 2012 Experian study that showed 44% of email opens happened on mobile devices. (Another 28% of opens happened via webmail.) Even that figure probably understates the impact of mobile technology on email; according to a 2011 Google study, for example, 84% of smartphone users were already checking and sending email with their devices.
B2B marketers face special challenges in this area. If you're not optimizing your email for mobile delivery, there's a good chance that prospects will associate your brand with lousy looking, badly formatted content. That's especially true when buyers spend more time considering B2B purchases and nurturing campaigns require a growing number of touchpoints.
If your organization is part of the 50% that aren't yet optimizing email for mobile devices, are you ready to make this a top priority for 2013?
-Matthew McKenzie
Email Marketers Paying Less For B2B Lists In 2012
The cost of renting email lists got a little cheaper this year. Unless you're a B2C marketer, however, you may not notice much of a difference.
The Worldata Fall 2012 List Price Index tracks the cost of renting or purchasing a variety of list categories. While a number of list categories got cheaper this year, the biggest change was a 8.6% decrease in the cost of permission-based B2C email lists.
B2B lists also came down in price almost across the board:
Permission-based small business email lists fell by 3.5%
Permission-based medium and large business lists fell by 1.6%
Permission-based international email lists fell by 3.2%
If you're not so big on permission-based marketing, then B2B email list costs actually held steady or even climbed a bit during 2012.
It's no secret why consumer lists got so much cheaper this year: The 2012 election cycle released a tidal wave of consumer email addresses onto the market. It's not as clear why business list costs fell, given a recovering economy and (presumably) higher demand. It's possible that more companies are renting their lists in order to raise additional revenue.
3 Reasons To Ramp Up Your Holiday-Season B2B Marketing Efforts
'Tis the season to be marketing…or is it?
Actually, we notice that a lot of companies cut back on their B2B marketing activities this time of year. It's an understandable trend: Team members scatter, Q4 budgets begin to wind down and executives focus on the year ahead.
But are there some missed opportunities here? I think so. Here's why.
First, consider that a time of year when most B2B companies take their marketing and advertising down a notch might be the perfect time for you to buck the trend. You'll get increased visibility compared to your competitors, and you just might get a stronger ROI on your campaigns.
Second, does it really make sense to miss an opportunity to influence your customers' crucial buying decisions during the first quarter of 2013? If we're serious about getting ahead of longer buying cycles, then this is precisely the time when you should be launching campaigns aimed at driving 2013 revenue.
Finally, this is a good opportunity to build brand awareness by lightening up a bit and having some fun. Clever, lighthearted holiday-themed communications go over well with many prospects – as long as you emphasize "light" and steer clear of any religious or cultural red-flag messages.
Your own B2B marketing budgets might be tight, and it can be a challenge to run campaigns at a time of year when your team may be short-handed. But with a bit of creativity – and, of course, the right marketing technology mix – you might convince Santa to drop a big box of red-hot holiday leads down your sales team's chimney.
Happy Thanksgiving!
-Matthew McKenzie
What is the Difference Between Email Marketing and Marketing Automation?
By Jon Miller, VP Content Marketing and Strategy   
What is the difference between email marketing and marketing automation? And how do you know if your company is ready to make the switch? Here's a quick primer on the key differences, and a handy-checklist to help you know when it's time to graduate.
Feature Comparison
There are many differences between email marketing provider and a marketing automation platform. An Email Service Provider (ESP) provides functionality to send mass blasts and track open rates, but with marketing automation, you have access to powerful, strategic features like multi-step drip campaigns, lead scoring, and marketing program analytics.
Take a look at this feature comparison:
Email Marketing Alone Just Doesn't Do it
If you are relying solely on email without automation, you are probably coming up against a few barriers.  Here are some challenges you might be facing with email marketing alone, and how marketing automation can help:
Email Marketing is Time-Consuming
·         Marketing automation removes the tedious manual work of crafting individual emails and allows you to focus on creating multi-stage, automated campaigns to nurture your leads and automatically respond to their actions while you get other work done.
Your Sales Teams Don't Know Which Leads Are Worth Their Time
·         Marketing automation allows you to automatically monitor and score your leads based on how they engage with campaigns or content, in addition to demographics or lead characteristics, so you can identify truly sales-ready leads to send to your sales team.
You Are Unable to Keep Leads Engaged Through Your Communications
·         Marketing automation allows you to automatically nurture your leads.  This means you can segment your database based on criteria most relevant to your business and lead them through your funnel using content and calls to action that are most relevant to each group, keeping them more engaged with your communications.
You Are Having Trouble Scaling Programs
·         Marketing automation is a solution that can grow as your company's needs grow. Instead of just building more and more email programs, you can run multiple types of campaigns, create lead nurturing programs, score your leads, and attribute revenue directly to each marketing program.
You Can't Attribute Revenue to Your Email Marketing Efforts
·        Instead of relying on CTR and OR for marketing success metrics, marketing automation allows you to clearly demonstrate which marketing programs – email or otherwise – are bringing in revenue, allowing you to make better decisions on which programs to run and which are most cost-effective.
Checklist: Top Signs You Need Marketing Automation
If you are still unsure whether it is time to graduate from your Email Service Provider, take a look at your organization and marketing practices. You should consider marketing automation if:
Your customer buying process lasts longer than a week
Sending emails alone does not seem to drive sales
Your marketing team needs an easier way to create and send targeted, multi-touch email campaigns
Your marketing department does not have enough time to do everything they need to do with their current resources
You sell different products or services to different demographics
You want to send different messages to different titles and industries
Your sales people are complaining about the quality of leads your marketing team is delivering
You want to know which of your marketing campaigns are the most effective
You can't tell if you should be spending more or less money on marketing
Still not sure? Check out our new whitepaper Graduating from Email Marketing to Marketing Automation for more insight.
Infographic: 10 Mobile Landing Page Best Practices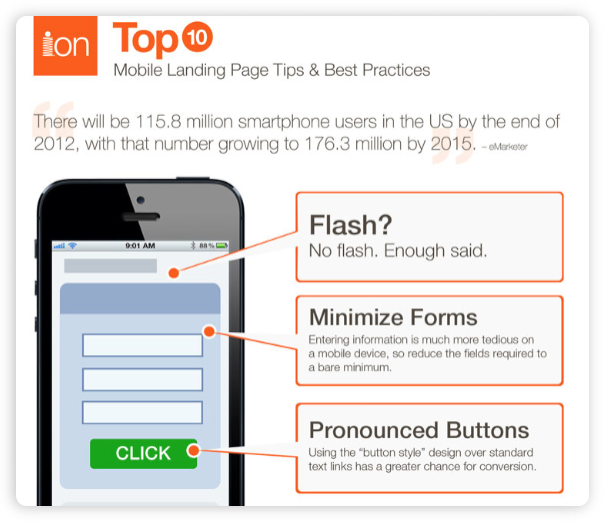 According to eMarketer, there are now more than 115 million smartphone users in the United States alone. That includes tens of millions of businesspeople who research their B2B buying decisions using phones, tablets and other mobile devices.
This week's infographic, provided courtesy of ION Interactive, offers 10 best practices for crafting practical and effective mobile landing pages. Learn what it takes to build a mobile B2B presence that engages and converts your prospects.
Infographic: For Email Marketing, Timing Is The Key To Success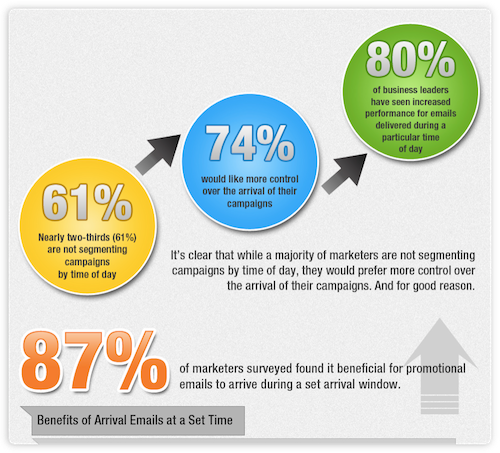 This week's infographic, provided courtesy of StrongMail, features the results of a survey of more than 700 marketing professionals. It offers some interesting insights into timing a company's email marketing campaigns, and the impact that proper timing can have on response rates – an issue with implications for both B2B and B2C marketers.
Video: 10 Strategies For Content Marketing

This week, we're going to dive into the archives and give you a presentation well worth watching if you didn't see it the first time around. In this Dreamforce 2011 session, Ann Handley, Chief Content Officer of MarketingProfs, and Jon Miller, VP Marketing of Marketo, offer 10 timeless strategies for content marketing, events and marketing automation success.
The Content Marketing Hall Of Shame
Here's a club your company definitely doesn't want to join: The Content Marketing Hall Of Shame.
Unfortunately (or maybe fortunately) nobody names names here. This is more like a list of membership criteria – the silly, careless or just plain dumb things marketers do when they think they're creating quality content.
If any of these traits hits a little too close to home, don't sweat it – it's never too late to change your ways. And we promise not to tell a soul.
Survey: Half Of All B2B Marketers Ignore Social Media
B2B marketers have a lot of questions about how and why to use social media. According to a recent study, however, relatively few of them are looking very hard for the answers.
As reported on eMarketer.com, a January 2012 Satmetrix survey of over 1,000 B2B and B2C companies found a surprising difference in how the two groups deal with social media. More than half of the B2C companies track and follow up on brand mentions on social media; another 25% at least keep tabs on social media mentions.
Among the B2B companies surveyed, just 27% track and follow up brand mentions, while another 22% do tracking only. Nearly half of the B2B companies basically ignore social media as a brand-management tool.
What's going on here? My guess (the obvious one) is that B2B companies don't pay attention to social media because they don't think it's a useful environment for engaging with their prospects and customers.
If that's how your B2B marketing team operates, I'll point to a couple of findings from our 2012 Content Preferences Survey:
Half of the respondents said they attach great importance to "peer reviews and user generated feedback." Social media is now a primary platform for sharing such feedback.
Nearly a quarter said they typically begin their search for business solutions by using social media.
In other words, a significant number of your prospects turn to social media to inform their buying decisions. If you don't even track how your brand fares on social media – never mind engaging with these people – how can you turn it to your advantage?