5 Words That Will Kill Your B2B Email Response Rates
Earlier today, we posted a news item on Demand Gen Report that looked at a new Adestra email study. Adestra, an email marketing firm, analyzed more than 900 million of its emails over a six-month period, looking at how subject lines impacted key metrics like click-to-open rates.
I wanted to dig a little deeper into this study; it's really a fascinating piece of research, especially given the huge volumes of email being analyzed. It's also compelling because it breaks out results for both B2B and B2C email campaigns.
So let's take a closer look at how particular words affected B2B email click-to-open rates:
For email with a definite call to action, that far-right column – click to open – is the one that matters. The numbers you see tell you how a particular word makes a subject line perform versus the average click-to-open rate for all B2B emails.
A few observations:
Words that offer the vague promise of something special – "free" or "exclusive" – can kill your click-to-open rates.
Ditto for "ROI" and "innovation," perhaps because these are badly-abused buzzwords that set off peoples' BS detectors.
Some money-related terms, like "profit," "revenue" and "referral," do quite well.
Terms actually used to describe the B2B sector – including "B2B" – are the kiss of death.
The five worst subject-line words to use for B2B email are (in order of negative impact): Summit, B2B, Business, Industry and Innovation.
Some of this may seem counter-intuitive, or at least a bit surprising. And as I pointed out in today's DGR news piece, it's also a bit surprising that long (20 words or more) subject lines tend to get good results.
So as usual, take this stuff with a grain of salt. But if you're experimenting with your subject lines anyway (and you ARE experimenting with them, right?) it's probably worth testing a few of these findings on your own campaigns.
-Matthew McKenzie
Infographic: How Are B2B Marketers Optimizing Their Funnel?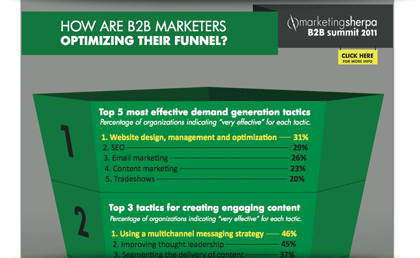 At MarketingSherpa's B2B Summit in July 2011, MECLABS released results from its 2012 B2B Marketing Benchmark Study. This infographic highlights how B2B marketers are optimizing their demand generation efforts. According to the survey, 31% of respondents cite web site design, management and optimization "very effective" for demand gen, while 46% primarily use a multichannel messaging strategy to create engaging content. See our "What's Working in Demand Generation" feature this week to hear directly from vendors how they are fueling their demand gen efforts.