Bloomberg: Oracle Considering ExactTarget Acquisition
Could ExactTarget be a takeover target for Oracle? That's the gist of a news analysis piece published on Bloomberg a few days ago.
From the article:
With this month's purchases of an online-shopping analysis firm and a provider of marketing management products, ExactTarget has a more complete package of Web-based marketing tools that may entice software makers to offer at least a 50 percent premium, said shareholder RCM Capital Management LLC. While ExactTarget is unprofitable … Oracle, SAP and Microsoft lag behind in developing comparable marketing technology and may consider buying the $1.56 billion company, said Barrington Research Associates Inc. and Royal Bank of Canada.
ExactTarget raised more than $160 million from an IPO filed in March, 2012. Earlier this month, the company announced that it had closed a deal to acquire marketing automation vendor Pardot for about $95 million in cash and stock. While ExactTarget is currently losing money, Bloomberg said it expects the company to grow by 126% over the next two years.
ExactTarget officials contacted for the Bloomberg article declined comment on the takeover rumors.
Would an acquisition like this make sense for Oracle? Bloomberg emphasizes ExactTarget's email marketing technology, but it's certainly interesting that the rumors are heating up now that ExactTarget has purchased its own marketing automation (Pardot) and personalization (iGoDigital) components.
ExactTarget and Pardot: Where Do SMBs Fit In This Picture?
We've been spilling quite a bit of ink today over the Pardot/ExactTarget merger and what it means for marketing automation. SiriusDecisions' Jonathan Block just published a blog post on the deal, and it's definitely worth a read if you're interested in the topic.
Block says he sees at least three areas where ExactTarget can benefit from Pardot's technology. In terms of features, he says, "Pardot's progressive profiling capabilities are robust," as are its SEO tools. Pardot is also designed to be extremely usable (a reflection of its SMB user base), and its third-party CRM integration is pretty good.
Here's an interesting contrast: Block thinks that buying Pardot "immediately makes ExactTarget more relevant to small and medium-sized b-to-b organizations." Atri Chatterjee, CMO of Act-On Software, has a different take on this; he thinks that ExactTarget is more focused on upgrading Pardot to serve as an enterprise-class marketing automation platform, and he openly questions ExactTarget's commitment to keeping Pardot relevant to SMB customers.
Which way will ExactTarget go? Is it possible for ExactTarget to adopt Pardot to suit both target markets? We'll see, although I agree with Atri that ExactTarget may find the process of integrating Pardot with its existing product stack to be a challenge.
-Matthew McKenzie
The Complete Guide to Successful Landing Pages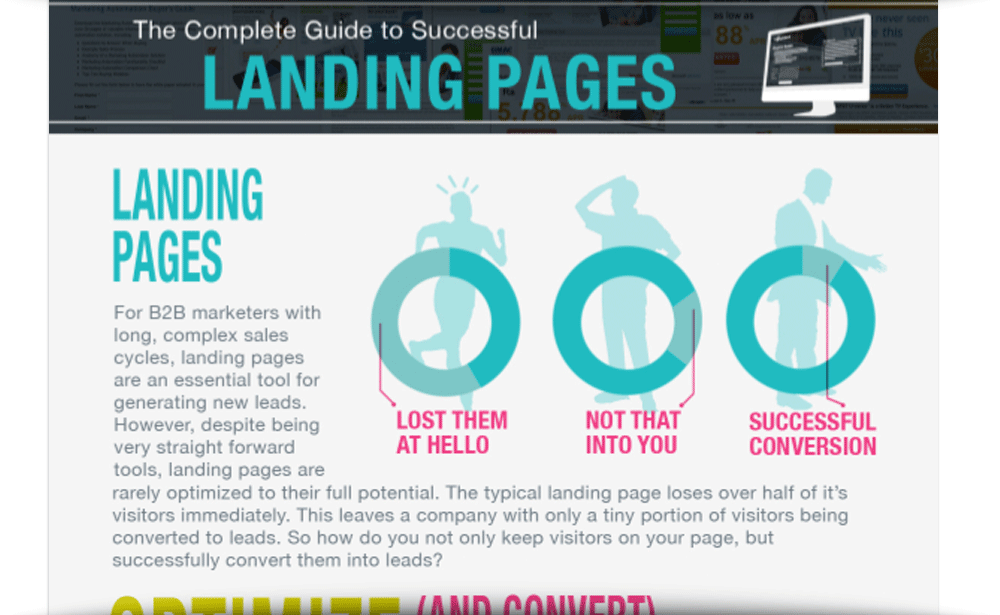 This Pardot infographic highlights the new imperatives for landing page optimization, specifically for B2B marketers with long, complex sales cycles. As the infographic notes, the typical landing page loses more than half of its visitors immediately. This infographic offers tips for design and layout optimization, as well as tips to provide value and implement and analytic-based approach to effectively refine landing pages.