Oracle And Eloqua: Making Sense Of The Marriage
By now, you've seen the news that Oracle shelled out $871 million to buy Eloqua. We have already shared a few thoughts about what the deal means for the marketing automation and CRM industries, but here's some additional color commentary.
Oracle Got A Great Deal
First, this is a big deal, but why isn't it even bigger? As Brian Hansford pointed out in an insightful Twitter post, it's a screwed-up world when a "cheesy photo app" with a quicksand business model (and a legal staff that needs to quit drinking on the job) sells for $1 billion.
Yet a highly successful marketing automation vendor with a proven business and vast growth potential goes for considerably less than $1 billion. Go figure.
Market2Nowhere
The acquisition also evokes memories of Oracle's 2010 purchase of Market2Lead, which promptly joined Spinal Tap in the "where are they now?" file. That was a peculiar deal to begin with; Oracle purchased the company's intellectual property but basically dumped its customer base into the nearest ditch. (Eloqua CEO Joe Payne actually published a blog post at the time inviting Market2Lead customers to jump to his company's platform. Check it out while you still can.)
Obviously, that's not happening this time around. Like it or not, Eloqua's client list is being invited to this party.
Four Questions To Ponder
Keeping that in mind, here are some issues worth considering as Oracle closes this deal:
Oracle typically assimilates its acquisitions by swallowing them whole. Will Eloqua keep a separate brand identity for the time being? Does it make sense to do so, given some of the issues discussed below?

We don't know how many Eloqua customers are also Salesforce customers, but "a lot" seems like a safe answer. As a result, Eloqua is bound to have some interesting conversations with clients who depend on close integration of their Eloqua and Salesforce CRM systems.

That sound you hear is Marc Benioff shredding Eloqua's invitation to next year's Dreamforce event. The Dreamforce Cloud Expo has always been fertile ground for marketing automation vendors, and Eloqua will – at the very least – find it a considerably less welcoming environment in the future.

Salesforce doesn't just integrate with Eloqua; it's also a client. Sorting this out will have the entertainment potential of a Hatfield-McCoy wedding party.
Thanks for reading, Happy Mayan Apocalypse, and have a great holiday!
-Matthew McKenzie
Revenue Performance Management: Theory And Reality
Hitting the first day of a vendor event is always an interesting experience. This is usually the time when vendors host their continuing education and training events; the crowds are smaller, the users are more focused, and there's a lot to learn if you know where to look.
That's definitely true here at Eloqua Experience 2012. This morning, I sat in on a three-hour session built around Revenue Performance Management (RPM). Here are three things that I took away from it:
Users are interested in RPM, and for the most part they "get it." It's hard sometimes to gauge genuine interest in a concept like RPM; does it address a real market need, or is it more useful as a marketing construct for the companies that promote it?
Judging from the response here today, RPM does appear to be a useful concept. Eloqua's introduction to the topic was very well-attended, and everybody stayed through the full session. Just as important, the questions from the audience reflected curiosity, rather than confusion, and reflected a desire to apply RPM concepts to real-world marketing problems.
Simplicity is a virtue. The Eloqua session was meant to provide an overview of RPM, and it focused on three key elements: data quality, campaign strategies and nurturing, and building an integrated funnel. In the process, I think the session accomplished something that Eloqua needs to do more of: It tied RPM to a series of common marketing challenges and offered some intensely practical solutions. Marketers respond to this approach because it impacts their productivity, their peer relationships – and (let's be honest) their careers.
Marketers continue be fascinated (and challenged) by alignment issues. A lot of the questions and discussion during the RPM session involved sales-marketing alignment issues. These folks definitely see the benefits of alignment. But I think that a lot of them are still feeling their way towards how alignment in theory meshes with the (often messy and sometimes chaotic) reality of the relationship between marketing and sales.
Here's the bottom line: Revenue Performance Management is a useful concept, and a lot of marketers recognize the value it offers them. When it comes to putting the theory into reality, however, a lot of marketers are still just beginning their journey along the RPM learning curve.
Eloqua's Take On The Salesforce Marketing Cloud
Eloqua's Jesse Noyes just published an
interesting blog post
offering the company's take on Salesforce's Marketing Cloud announcement:
So, what is the "marketing cloud?" Really, salesforce is combining the features and functions of Radian6 and Buddy Media to create a social marketing cloud where social media monitoring, content and advertising are integrated with salesforce's CRM product. The concept is not that there's a dileneation between marketing and social marketing, but that all marketing is becoming social marketing.
Eloqua sees a natural affinity between its marketing automation platform and Salesforce's Marketing Cloud. And I think that's absolutely true - it does look, at least for now, as if Salesforce wants to keep its own marketing technology efforts closely mapped to its grand vision for the social enterprise - with no forays (or shopping trips) into core marketing automation technology.
That's a relief, since as Box.net and Okta discovered this week when Salesforce introduced its own, competing document storage and identity management plays, there are both risks and rewards for building these closer relationships.
By the way, Salesforce did a good job of punching big holes in some recent claims that Chatter wasn't gaining market traction. Clearly it is - Salesforce says Chatter now has more than 170,000 active networks, including half the Fortune 500. Obviously, the marketing cloud IS gaining ground in the enterprise, even if there are some hiccups along the way.
The Relationship Between Revenue & Marketing Metrics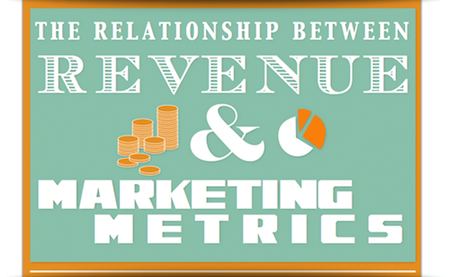 As marketers cultivate an increasingly critical role in the revenue discussion, this Eloqua infographic highlights the business drivers behind a greater effort to measure marketing initiatives. A whopping 89% of marketers said they've increased their emphasis on marketing measurement in the last 12-24 months.