"Inbound marketing is a mandatory part of an effective #B2B marketing mix." - SiriusDecision's Group Director Jay Gaines at the #DemandCon keynote in Boston:
Gleanster Announces New Insight Exchanges For Marketing Automation, CRM
Gleanster today announced the rollout of two Insight Exchanges on Marketing Automation and Customer Relationship Management (CRM), with resources such as vendor landscapes, white papers, benchmark research, videos, presentations and analyst commentary.
Launched on December 28, 2011, the Insight Exchange Open Resource Library is a "great way for solution providers to demonstrate thought leadership, raise brand visibility and gain broad exposure for the valuable content assets they've already created," according to Jeff Zabin, CEO and Research Director at Gleanster, in a company press release.
"At a glance, you can view all the relevant solutions and their showcases, which are chock full of actionable insights, best practices and strategic guidance," Zabin said. "For their part, solution providers have a powerful new vehicle at their disposal for raising brand visibility, demonstrating thought leadership and generating new revenue opportunities."
Next week, Gleanster will publish a benchmark report on CRM that features showcases for more than 40 technology solution providers, including Infor, Infusionsoft, Microsoft, Oracle, SAP, Sage Software, SalesFUSION and Salesforce.com.
The Marketing Automation benchmark report is set to publish in October 2012, and will showcase more than 40 solution providers, including Act-On Software, Aprimo, eTrigue, ExactTarget, HubSpot, Unica and Pardot.
Strategizing Your Marketing Organization Design: Tips To Accelerate 5 Changing Roles
Today's B2B personnel wear so many hats — from content to social media optimization — there are a variety of operations that require an "all hands on deck" approach.
This morning at the SiriusDecisions Summit, John Neeson and Marilyn Reap highlighted the current marketing structure, and how it's changing as a result of market factors and increased sales requirement.
As a result, today's marketing disciplines cannot be confined to individual marketing functions; instead, they are required in various phases.
So what's going on? Market changes are impacting and challenging the CMO, as well as the traditional marketing structure. And what should we do about it? We need to assess our team's marketing skills and determine the most appropriate development to align the organization and drive efficiency.
Marketing roles are emerging due to changing buyer journey and sales needs, so it's time to plan for these new roles and skills:
1.    Social Media- product marketers, demand gen professionals need social media skills; those communication skills need to be embedded in the company culture.
2.   Customer Marketing- the customer experience begins before they are an actual customer, and kicks into high gear once they become one.
3.   Marketing Technology- marketers need technology to optimize their processes and operations, and this requires an investment in marketing technology, as well as a new skill set to leverage its full potential.
4.   Content Marketing- the buyer calls the shots, and content is an integral part of the purchase process. Organizations need to empower personnel to understand target buyers and the most appropriate content offers across different phases and interactions.
5.    Digital Marketing- as noted previously, technology and content is driving the change in the organization-wide approach to digital marketing. Companies need to understand how to leverage digital marketing in conjunction with other operations.
Most CMOs, the speakers noted, comment that some roles are being reversed, while others are changing in scope. For example:
·      Event marketing is integrated with the program manager;
·      The Marcomm manager now has an increased use of marketing agencies;
·      Big ad agencies are out, while small, boutique agencies are in;
·      Corporate communications overlaps with content strategy and social operations with a greater focus on the entire enterprise;
·      Web marketing is now a centralized strategy executed regionally, while it used to be contained to one team; and
·      Campaign managers now have a broader role that's more strategic as an integrated journey manager.
If you were given 10% more budget, where would you spend it?
While marketing dominates, branding is often viewed as a luxury and is becoming more integrated into traditional marketing. In a SiriusDecisions survey, 35% of respondents said they'd take their extra budget and optimize demand creation while 17% said branding. A smaller percentage (13%) said content, as the high volume of it still needs to be more current and aligned to buyer's journey.
Today the CMO faces pressures around measuring ROI
CMOs commented that most marketing discipline are going through change; the following 3 are priorities:
1.    Demand creation- Changing from outbound campaigns and direct response — to inbound campaigns, outbound campaigns, sales-driven campaigns, demand centers and web resource federations. This model must be accelerated for success.  
2.   Sales enablement- Changing from sales role, part of sales operations, part time marketing role — to specific sales role, new marketing role, product marketing capability, which is becoming a more specific role than marketing.
3.   Customer Marketing- Changing from part time role to a customer experience and service-exclusive role, including a product marketing capability. It's also becoming more of an exclusive role reporting directly to the CMO.
SiriusDecisions Key Takeaways:
1.    Start with the buyers journey
2.   It's not what's in each marketing box, it's about how they collectively operate in the ecosystem
3.   Some roles are enablers
4.   Others are disciplines
5.    Technology and content are needed throughout the ecosystem
The Sales & Marketing Alignment Solution: Innovation!
Sales & Marketing Alignment has always been the thorn in B2B companies' sides. But today, Rich Eldh, Managing Director and Co-Founder of SiriusDecisions, encouraged approximately 1,000 attendees at the SiriusDecisions Summit today in Scottsdale, Ariz. to think about the paradigm differently.
 "The focus on sales and marketing alignment has not been over discussed or over-valued," Eldh said. "We've recognized it's a mandate to continue down this journey."
Talk To Me!
Marketers and salespeople need to work collaboratively to drive success, and similar to a symphony orchestra, Eldh said, everybody has a role and responsibility.
Marketers and sales people strive for attention from buyers to promote revenue growth. Today's buyers are educated and empowered, and the old-school touches and tactics simply don't make the cut. But if sales & marketing organizations are tightly integrated, that impacts revenue health positively.
"The question isn't whether you need to align sales & marketing efforts, it's what are the results you're going to get!" Eldh said.
Even more telling, SiriusDecisions has found that organizations that do effectively align their sales & marketing strategies realize a 5.3x revenue growth and 6.2x profitability growth.
"Sales and marketing integration and alignment is in fact innovative because it's enabling us to improve upon our process and communication as we grow our companies."
Stay tuned for more Summit takeaways from the DemandGen Report blog!
Follow the conversation on Twitter.
Are You Ready To Launch Your Lead Gen Team?
Are you ready to launch your lead gen team? This infographic, originally posted to the 
OpenView Labs blog
, highlights 6 questions that every organization should address before launching lead gen initiatives. Key considerations include: segmentation; buyer personas; leadership decisions; and manager bandwidth. Our Guide to Marketing Automation highlights the most critical aspects of marketing automation implementation. 
Click here
to view the full infographic for more lead generation team launch strategies.
Ardath Albee: How To Craft A Killer Call To Action

Ardath Albee opened our Content2Conversion event last month with a really good keynote address. In a recent blog post, Ardath follows up on a question she received during that session about how to create effective calls to action for B2B marketing content.
Ardath isn't a fan of CTAs that basically invite prospects to get hassled by salespeople. You're wasting your content on that kind of stuff. Instead, Ardath offers a great list of ways to think about creating CTAs that engage your prospects, invite them to learn more and set your company apart from the competition.
The Complete Guide to Successful Landing Pages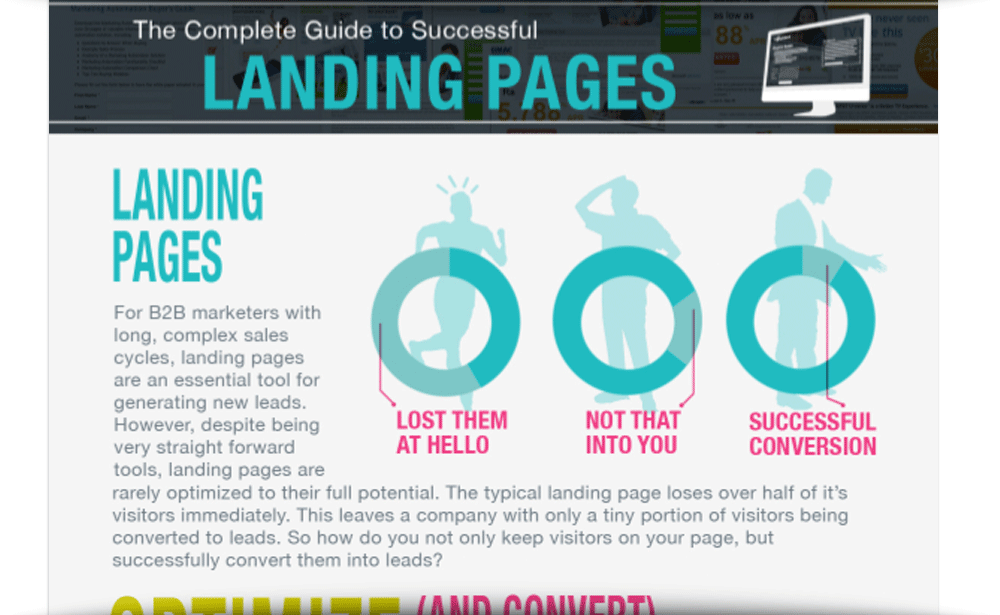 This Pardot infographic highlights the new imperatives for landing page optimization, specifically for B2B marketers with long, complex sales cycles. As the infographic notes, the typical landing page loses more than half of its visitors immediately. This infographic offers tips for design and layout optimization, as well as tips to provide value and implement and analytic-based approach to effectively refine landing pages.
The Relationship Between Revenue & Marketing Metrics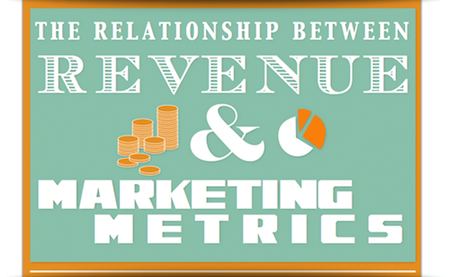 As marketers cultivate an increasingly critical role in the revenue discussion, this Eloqua infographic highlights the business drivers behind a greater effort to measure marketing initiatives. A whopping 89% of marketers said they've increased their emphasis on marketing measurement in the last 12-24 months.